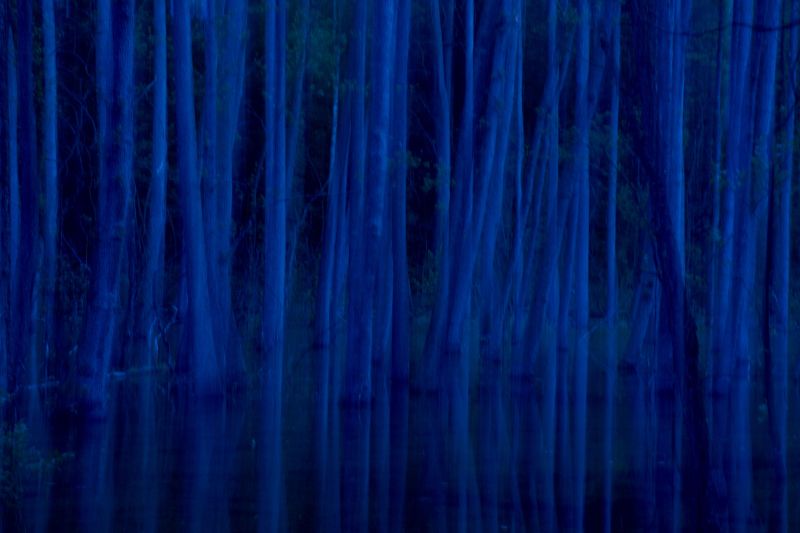 A lot of people ask me if I treat my photographs digitally. That's not the case. With the help of special filtering techniques and sophisticated adjustments of exposure times, white balance, f-number and ISO-speed I get the desired expressiveness which is boosted by various drawings with the camera. At the same time I emphasize on the fusion of focus and blurring and create an own form of Abstract Photography.
To explain my techniques a little better I want to refer to photo "Into the Woods – No. 38". As with the intensive blue in the picture you could easily presume that it has been treated with Photoshop by a colour filter. This doesn't meet my idea of ambitious photography. The image was taken around midday. The sun provided the excellent light I catched with the above mentioned technique and the trees, which stood in the water, provided the wonderful reflexion as the foundation for my abstract photography.
To achieve an interesting result I devote myself to the motive and feel my way towards its uniqueness. Only after this I start with the shooting. As with some shots, I decide to photograph with closed eyes when I know exactly what drawing technique I will use. This requires a neat piece of work, accurate to the mm, and the melting of photographer and camera when I draw the blue of the sky partially into the picture.
Basically I don't photograph in raw-format because I don't want to be tempted to alienate the image while "development".
It's not about the perfect picture, it's about making the imperfect perfect artistically 
Photographically I work as if I'm holding an analog camera in my hands, which means, the most important tools are filters, blend, ISO and exposure time.
I'm pleased if you want to accompany me into the world of Impressionistic Photography whose colours, shapes and drawings show the beauty of the nature from a new perspective.
Yours,
Antje